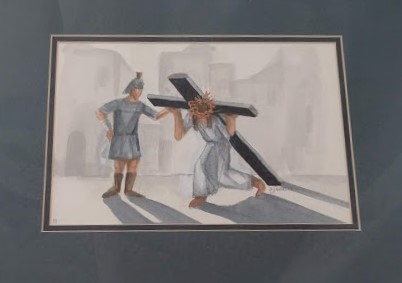 I am so pleased to tell you that the book More Prayers with a God of Love has sold really well and we're down to single figures! Thank you to everyone who has bought a copy, we have already sent a cheque to Open Doors for the monies raised so far.
I am considering mounting the original paintings I did for the book and offering them for sale unframed … watch this space!
We are in Lent as I write this, and I wanted to share with you a series of paintings I have done; The Stations of the Cross.
It's a theme I'm really interested in and am contemplating doing other sets, or series, including acrylic on canvas. I'm always drawn to the Stations of the Cross in churches I visit, which often then inspire me to produce my own interpretation.
These are gouache on watercolour paper with a double mount, I am not selling the originals but would take commissions, contact me for details. (Please excuse the photography, to avoid the reflections in the glass, I had to take the pictures from an angle so they look a little twisted.)
Thank you for your interest in my work,
Shirley